Exotic Cars of London
London, especially certain well-to-do areas of central London, has emerged as one of best places in the world to spot exotic cars.  Its economy is booming and yet another place where the rich are getting richer.  Matter of fact, London is one of the world's top 5 cities that billionaires call home.  London's car scene differs a bit from America's SOCAL and South Florida exotic car hot spots though in that a sizable portion of the top end exotics in London are actually owned by foreigners.  Yes, many wealthy foreigners, primarily from the Middle East, actually ship their cars to London for the summertime and then ship them back home.  Some exceptionally wealthy individuals will even ship several of their cars on cargo planes.  The great city of London experiences such an invasion of high-end cars from June to August that it has be called "supercar season".
Cars imported with their owners from the Middle East can be some of the most exotic cars out there from such name plates as Koenigsegg, Pagani, Bugatti, Ferrari and Lamborghini.  On top of that, oftentimes these exotics are customized with colorful vehicle wraps, custom wheels and other showy accessories that ensure that their car is truly distinct.  Perhaps unsurprisingly, outside of the "supercar season", London's top-end cars skew heavily towards British brands such as Jaguar, Bentley, Rolls-Royce, McLaren, Land Rover, Lotus and Aston Martin.  Of course native Londoners own all types of expensive and amazing cars produced elsewhere.  The fact is though, Londoners generally prefer their domestic automakers and painted in more understated colors – white, black, gray and silver.
If you're a long-time resident of central London, especially in affluent neighborhoods like Kensington or Knightsbridge, then you may find all these supercars and high-end cars obnoxious.  A quick YouTube search and you'll find dozens of videos of London supercars behaving questionably by blasting through the streets or repeatedly revving their loud engines.  Some have even caused accidents with their reckless 'show off' driving.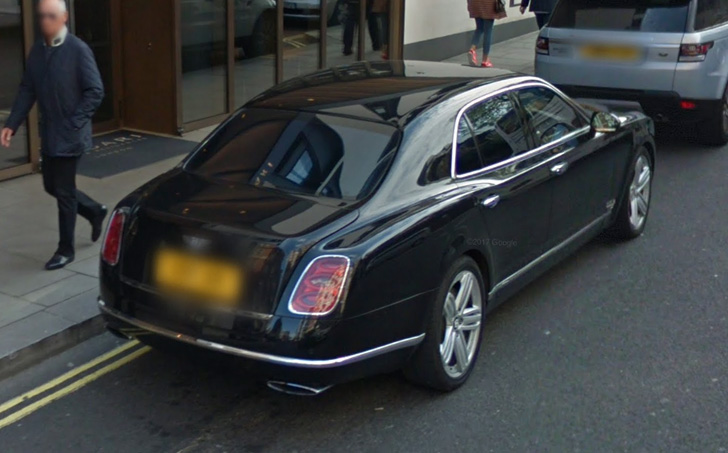 Then again, if you're a high-end car aficionado or car spotter in London, then the summertime influx of supercars to the area is your favorite time of year.  Moreover, many Londoners benefit financially during this "supercar season" such as owners of hotels, townhomes for rent, restaurants, high-end shopping boutiques and so on.
Spotting exotics in person is all fine and dandy, but many enthusiasts don't ever get the chance to travel to the truly great locations to spot exotics.  Enter Google Streetview.  Now, your average Joe from anywheresville can hunt for exotics.  Looking for special high-end cars or even supercars in Google Maps can be surprisingly entertaining, even addicting.  As you start discovering rare and expensive cars you begin to think that maybe there's a Lamborghini or Aston Martin around the next corner.
In our London, England search we found a whopping 335 expensive high-end cars, supercars and even a hypercar (look close on one of the pictures and you'll see a Bugatti Chiron!)  Perhaps more amazing is that there are likely exponentially more special cars to be found in Google Streetview within the London city limits alone.  That's in part because Google continuously updates their Streetview photographs in which a user can select numerous dates that Google photographed that location.  So, a street may be empty in 2019, but go back to say 2015 and the Google Streetview is filled with high-end cars.
Another tip for hunting for exotic cars is to think like someone who owns a high-end car.  Where are they likely to be?  It's most likely of little surprise that special pricey cars tend to be found near expensive shopping districts (think Sloane Street in London), luxurious housing, 4 and 5 star hotels, top-tier restaurants, and near high-end car dealers.
Have you ever "hunted for exotic cars" on Google Streetview before?  If so, what are some cars you've spotted and where?
London Expensive & Exotic Car Pictures: