1969 COPO Camaro – A Rare Beast
Enthusiasts tend to agree that the late 60s and early 70s were the golden era for the American muscle car. Roughly half a century ago, Chevrolet built a truly special Camaro.  This, now legendary muscle machine, boasted an astounding amount of power and was ready to embarrass anyone mindless enough to challenge it on the drag strip or at the stop light.
A secret out in the open
Back then in 1969, few people were aware that Chevrolet designed and built considerable quantities of Camaros powered by the L72 427/425 HP engine. This was not for a lack of attention or general disinterest, but rather because the L72 engine was not listed among the options available for the model year.
Don Yenko, a dealership owner and well-known road racer, convinced Chevrolet Production Promotions director Vince Piggins to pull some strings and use the Central Office Production Order (COPO) code to have the engine installed on the assembly line. This wasn't the first time a COPO was used, as Piggins pulled this trick back in 1966 for the Stinger Corvair as well.
Piggins did another favor for Fred Gibb, a dealer in Illinois, whom wanted the aluminum ZL1 427 CI engine fitted to a batch of drag racers in 1969. To make it happen, Piggins used the COPO 9560, with the COPO 9561 following up for the iron block L72 version. This could have gone really bad if corporate caught a sniff of it, as it wasn't easily justifiable, especially since Don Yenko's cars were street cars and not racing units. With the COPOs out there, Piggins couldn't simply limit production of these street racers to a limited number of dealers. It was just that, being very hard to know who to call and what codes to ask for, most prospective buyers weren't aware of the option.
It was supposed to be more competitive
The forward thinking of Fred Gibb launched the COPO Camaro on a path towards greatness. By marrying the aluminum ZL1 427 engines with M40 Turbo Hydra-Matics on 50 units, enough to qualify it for the NHRA drag racing series. Originally, the Novas only came with manual gearboxes, thus the need for the COPO order.
Once plans were set in motion, flood gates opened and a bunch of 1969 Camaros and Chevelles were COPO-ed to bring in either the L72 iron Mark IV engine block or the lighter, more powerful all-aluminum ZL1. Despite being more powerful and faster, only 69 units of the ZL1 Camaro were built, main reason being the prohibitively expensive price. On the other hand, plenty Camaros saw the L72 iron block, since the engine upgrade was only   compared to almost triple that for the ZL1.
The RPO L72 engine
What made the RPO L72 so special that COPO 9561 blew in sales? First of all, it was a 427-ci iron block. It featured a 11.0:1 compression ratio, generated by aluminum pistons pushed by forged steel rods. These were the same rods used on the ZL1 engine, accompanied as well by a forged steel crankshaft.
This was still the era of mechanical distribution, as it would be quite some years before electronic valve timing and stratified fuel injection was introduced. As such, inlet and outlet valves featured a 302/316-degree distribution on the camshaft, accompanied by a .520 valve lift. Regular valves were prone to thermal stress and oxidation, and thus the L72 engine came with aluminized faces and heads.
Fuel was distributed via a four barrel 780CFM Holley carburetor, sitting atop an aluminum intake manifold. Without exception, the L72 Camaros came fitted with aluminum single point spark distributors, while the more expensive ZL1s used transistorized ignitions.
The L72 emitted plenty of heat, especially during hot summer days. To keep it running within optimum temperature parameters, especially when mashing the throttle against the floor, a heavy-duty Harrison 4-core radiator was installed.
The overall result of this power unit? An astounding 425hp at 5,600rpm and chassis twisting 460lb-ft of torque at 4,000rpm.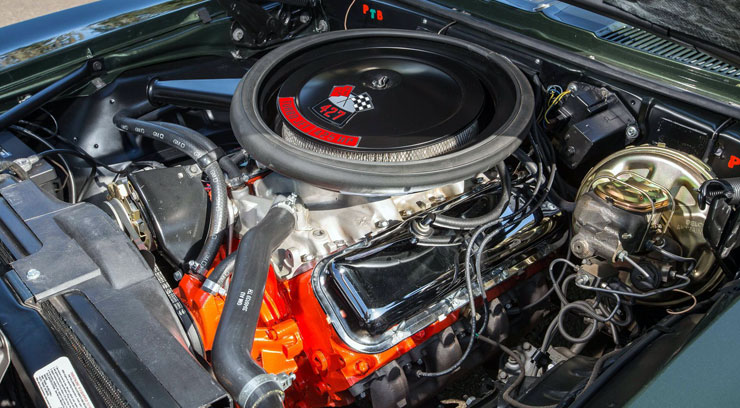 The wildest sleeper of 1969
There was literally nothing on the outside that would give away the enormous ability and power that the COPO Camaro was capable of. The Yenko or Berger trims hinted slightly to some performance improvements, but generally, the L72 or ZL1 Camaros were a prime example of, hungry rabid wolves perfectly dressed in sheep's wool.
Without the usual stripes or decals, COPO Camaros would pass easily as your average 1969 econo-pony car. Only those with inside knowledge would widen their pupils at the sight of the Argent Silver grille and the large blue bow tie in the center.
While the standard V8 Camaro coupe weighed in at 3,135 lbs, the addition of the L72 engine, M21 transmission and front disc brakes increased the total curb weight to 3,496 lbs. With 425hp at the wheels, the COPO Camaro was below GM's unwritten rule of 1hp per 10 lbs, rating at 1hp per 8.2 lbs.
Part of the COPO Camaro muscle cars headed from Chevrolet dealerships towards the North, particularly the Canadian border were more out in the open. Dressed in bright yellows or orange, or even Le Mans Blue and Cragar S/S wheels, these COPO Camaros weren't hiding their capabilities. In a very limited run, a liquid tire chain feature was added as option, which sprayed traction boosting compound directly onto the rear tires. Take that for an advantage at the drag strip!
Highly in demand, even today
If prospecting buyers weren't aware of the COPO option back in the 70s, as of today, the few remaining well preserved COPO Camaros are being auctioned for incredibly large sums of money every year. One prime example is a 1969 Chevrolet Camaro ZL1 COPO 9560, featuring the original aluminum block, number 9 out of the 69 produced. With full documentation and proof of original delivery to Fred Gibbs Chevrolet of LaHarpe, the COPO ZL1 was auctioned for an eye-watering $451,000 in 2012.  Certainly, that figure would be even greater today.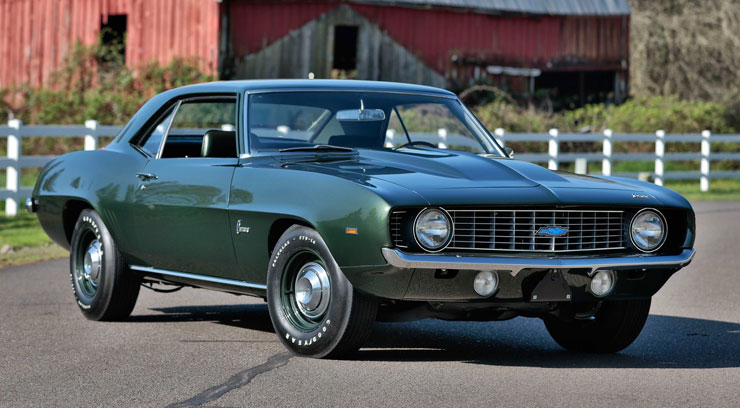 Still, this doesn't even come close to the highest ever bid for a COPO Camaro. Number #59 of the 69 units built was auctioned at Barrett-Jackson for a jaw-dropping $1,094,500, despite having its ZL1 aluminum engine replaced early in its life under GM warranty.
Started as a favor between friends, the COPO Camaro turned out to be one of the most powerful pieces of American Muscle Car history, featuring not only an amazing backstory, but also the power figures, results and fame to back it up.