Is the Range Rover Velar Style over Substance?
Land Rover Range Rover Velar (180 S and 380 HSE Dynamic Tested)…
The Range Rover Velar wowed the world with its sleek lines and elegant interior at its unveiling in 2017, but does it still feel special today?
Looking through the current Land Rover model lineup it's clear that many of its offerings fulfill the same needs and solve the same problems. So why pay more for a Range Rover Sport or get the Velar instead of an Evoque? To start with the Velar is a noticeably more compact car than the Sport – narrower and lower, and it isn't available with a low-ratio transmission, although will get quite far into the woods if required. But, at the same time, It also makes the Evoque feel like a luxury hatchback in comparison.
If you consider this as an alternative to a Mercedes E-Class, but with a higher driving position, it starts to make sense.
We tested both 2.0 Diesel (180 'S' Trim) and 3.0 V6 Gas (HSE Dynamic Trim) models – there is a 2.0 and also a 5.0 Gasoline available later this year.
The Gas Station Test
There's a good test when it comes to car styling, no matter how old or expensive. It's the Gas Station Test.
If, when paying for that Mountain Dew to keep you going for another few hours on the freeway you're compelled to keep looking across at your car, it's a pass. If it doesn't even muster a glance, the styling really isn't doing anything for you. Happily, in the Velars case, it's an absolute pass.
To these eyes the Velar is Gerry McGovern's best work (Land Rover's Chief of Design) It stands apart from their other recent offerings as being a genuinely well-proportioned elegant and coherent piece of work. Details like the flush sitting door handles and flowing sides means it turns heads.
My only concern with the exterior of the car may be a little boring. Those motorized door handles take some getting used to and it remains to be seen if they're going to be a bone of contention once these cars get to being a few years old, especially if you get a sheet of ice on the bodywork during wintery conditions.
Where are the buttons?
Inside, the aesthetics don't disappoint either. The cabin flows very well throughout and although the roof feels lower than other Land Rover Products it's remarkably well lit. Of course the panoramic roof helps, but even with this closed its anything but dark.
Through the materials and lack of buttons (most of the key functions are operated via the 2 10-inch screens in the middle) it feels genuinely special. Considerably more than its Jaguar F-Pace cousin (which it shares the same platform and many components with) and worth every penny of the asking price. The Meridian sound system is excellent and overall it seems to lose nothing to the more expensive Sport.
From the driver's seat the view forward and driving position is perfect. Although not at large SUV levels there's plenty of space in the front with the high center console and general dimensions not unlike a large sedan. You can see where you're going very well, but not where you've been so clearly – rear visibility is not as good due to the sloping roofline and small windows in the trunk space. This is never a problem as both the park assist and side mirrors are excellent. At 6 foot 1 I had no trouble getting comfy in the back although it may get a little cramped with 3 adults on the back row.
Coming back to the lack of buttons, as mentioned before all the infotainment, drive mode selection and HVAC controls are accessed by the lower of the two screens in the middle. This generally works well when stationary, but becomes hard to change even basic settings when moving and needs constant wiping down due to fingerprints. I'm not sure whoever asked for *everything* to be touch screen, it's not the smartest idea in a moving vehicle (I'm looking at you, Tesla) – if you're on the Terrain Response screen it becomes impossible to change the temperature on the drivers side, so you end up taking your eyes off the road. Much better is the 3rd screen which acts as the entire dial cluster in-front of the steering wheel, much like other manufacturers screens being clear, adaptive to driving modes and nice to look at.
Brisk, Sometimes
The 2.0-Liter 4 cylinder diesel with its 180hp could never be considered fast. Although its more than adequate torque figure of 317lb/ft means that keeping up with highway traffic is an easy proposition. But that's all you'll be doing…keeping up; it feels a little strained and asthmatic when pushed. That torque figure provides a welcome shove, but it doesn't last long. The ZF 8 speed has to work hard to keep up if you're in a hurry and it downshifts far too eagerly when it could use that chunky, if short, powerband more effectively.
If all the car is ever going to do is live in the city it'll be fine. Anything more is down to your personal priorities – it wasn't that long ago that a mid-8 second run to 60 was considered fast enough. But, depending on what you're used to, it doesn't befit a car of its $56k price tag. At idle it's clear that the car is powered by a small diesel, with some vibration coming through to the cabin – although noise is well contained and the engine near silent at all times in the cabin. The small diesel does give EPA estimates of 21mpg city and 27mpg highway (23mpg combined).
Driving the Supercharged 3.0 V6 gas engine is a different story entirely. With 380hp and 332lb/ft of torque (but spread over a much wider rpm range) it makes for a much more refined and effortless drive…
Perhaps due to the size of the thing (it's still an SUV after all) it feels faster than its mfg claimed 5.3 seconds to 60 time suggests and its 155mph (limited) top speed is never in doubt. Always refined & near silent at idle you get hints of the now-famous Jaguar F-Type V6 sound when really pushing it. Which is no surprise as it shares the same engine and 8 speed ZF transmission. Compared with the 4 cylinder diesel also tested, it's worlds apart and the transmission feels much more suited to this application. Spending some time with the car you really feel the powertrain's Jekyll and Hyde character – it's equally happy cruising in D and actually fun taking it up to the near-7000 rpm redline and using the paddles behind the steering wheel. The engine rewards you and the gear changes happen with minimal delay. Driven more gently the EPA estimates of 18mpg city, 24mpg highway & 20mpg combined are quite reasonable considering the performance.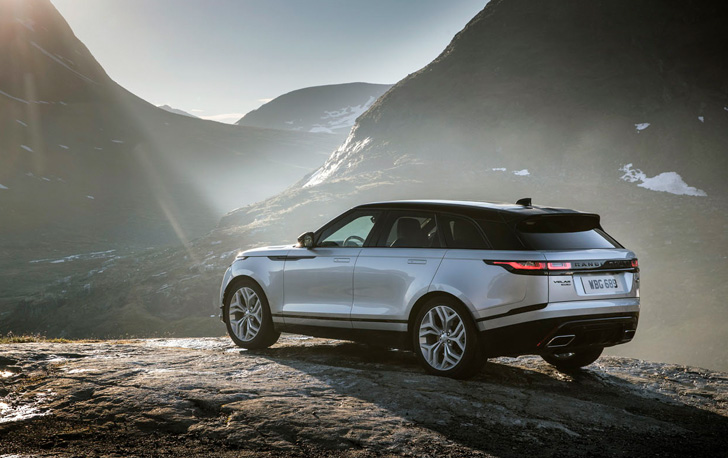 Ride & Handling
The suspension is different on both cars – with 4 cylinder cars getting coil springs (like their F-Pace cousin) and the 6 cylinder cars being air sprung. The first couple of miles in either of the cars you notice the light steering, big wheel and a Mercedes E-Class like feel to the drive. The air springs on the V6 proved to be a little more comfortable on poorly surfaced roads although both provided a firm but very well controlled ride.
Find some twisty roads and up the pace and the Velar goes from being a heavy feeling refined SUV to being quite light on its feet. It changes direction with alacrity and that previously light steering weights up nicely. The brakes are impressive and you barely notice the additional 113lbs of the V6 vs. the 4 (4,471 vs. 4,358lbs). Grip is impressive in both. Whilst not quite being up to Porsche Macan standards, combined with its powertrain it's genuinely possible to have lots of fun with the V6 and significantly easier to throw around than the Range Rover Sport (which is already impressive).
The air suspension also endows the V6 with an additional level of off road ability, working with Land Rover's Terrain Response system and its all-wheel-drive to get the car over all but the most severe unpaved conditions. I suspect it'll cope well with anything a typical Velar purchaser will throw at it.
Our Conclusion
The Velar is an easy car to recommend- impressive to look at, be around and drive. In V6 form it delivers everything you could want from a one car garage. Yes, some elements may be a little style over substance (more buttons please) but they're not obstructive enough to quell the feeling of 'want' after learning the depths of this car's ability. I don't know of any car that'll cruise so comfortably, look so sharp, off-road, and tow so capably (The Velar has a tow rating of 5,512 lbs) and still be entertaining on the roads up and down the mountain. It almost seems good value at $76k.
The diesel, all I would say is take an extended test drive of one and try and get behind the wheel of the 4 cylinder gas version too, I suspect that engine is a lot more willing on our North American roads.
It'll be very interesting to test the forthcoming 5.0 V8 SVAutobiography, if the V6 is anything to go by it'll be a genuine all-weather rocket ship.
Range Rover Velar Review Pictures: