1970 Chevy Chevelle SS 454 LS6 Classic Muscle Car Review
As any muscle car enthusiast will tell you; 1970 was the best of times, and it was the worst of times.  Detroit's big three manufacturers were consumed by the notion of "win on Sunday, sell on Monday", and year after year seemed to produce exponentially greater power, and larger displacement engines. Critical mass was reached by 1970 when insurance premiums brought too much pain to consumers' pocket books, and Ralph Nader tossed the cold wet towel of federal regulations on the automotive industry. Before the party was over, GM managed to produce a real knuckle duster of a muscle car; the 1970 Chevelle SS 454 LS6. This factory built race car overcame an assortment of red tape hurdles to reach production just in time to define an era, albeit a brief moment in history.
Chevrolet's A-Body was host to many of the brands greats as it is the original platform. The Chevelle nameplate brought fresh sheet metal and a timeless facelift into the 70's along with engine options from a polite 155hp six cylinder, to a rabid heavy fisted 454 CID V8. GM had the mid-sized Chevelle restricted to less than 400 CID as these engines were reserved for full sized vehicles and Corvettes. The folks at Chevy had a magnificent workaround that allowed COPO (Central Office Production Order) vehicles to be equipped with the full big block range including the Mark IV 427. Mercifully in 1970 General Motors caved on the self-imposed ban, and the engineers seemed to know the end was near because they took the 427 and figured it needed more. New to 1970 was the legendary 454 Big Block Chevy, a stroked 427 rated at 390hp and 500lb-ft of torque in the LS5 spec. When Chevelle buyers checked the box for the LS6 they could look forward to a jump to 450hp with the torque numbers remaining the same.
Power was gained by topping the motor with a serious business 800cfm Holley carburetor, forged internals, solid lifter valve train, and increasing the compression to 11.25:1 Transmission options were the incredibly durable, drag strip ready TH400 3-speed automatic, or the 4-speed "Rock Crusher" Muncie manual gearbox. Ensuring you will eat through the F70X14 Firestone Wide Oval tires much faster than they were intended, is a Posi-Trac rear gear with ratios up to 4.10:1 that make laying rubber child's play. All of the factory attention to performance paid off to the tune of 13.1 sec quarter mile at 107 mph. Before you young folk raise your eyebrows too high, understand where automotive performance was 50 years ago. Handicapped by an unrefined weight of nearly 4,000 pounds when loaded, and tire technology that was barely keeping up with performance capabilities, these numbers were impressive by anyone's standards.
1970 quarter mile sprints to note: Corvette 427 @14.1, Datsun 240Z @16.9, Dodge Challenger 440 6-Pack @13.3, and the Ferrari Daytona GTB cut it at 13.5 seconds.
The depth of nearly "Skunk Works" level modifications may lead you to think the SS 454 is some NHRA ready stripped down race car with passenger seats, yet when ordering a Chevelle in LS6 trim the truth is the standard option list was extensive, making it one of the more comfortable to drive vehicles in its class. Like any other high-line trim, there were features that made the car identifiable as something special beyond the explosions that occur under the hood. Tacking $500 onto the over $4000 price tag was the appearance package that put chrome valve covers, dual polished exhaust tips, black painted grille, SS badging all over, and wheel arch trim over the 14X7 polished wheels. Front disc brakes were thankfully a mandatory option with the Z15 appearance package, given the power this was worth the charge by itself. Muscle cars that can handle are no new concept, as the "Heavy Duty" F41 suspension can prove.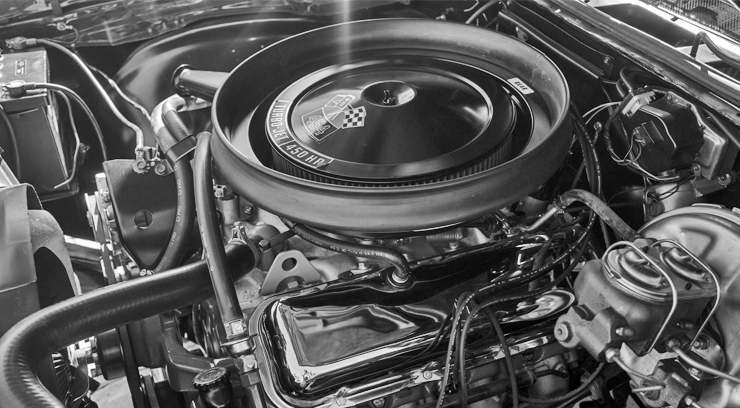 Enhancements to all four corners include HD springs and shock absorbers, larger diameter 1.25" front sway bar, and the addition of a rear sway bar. Rear lower control arms were boxed to increase strength over the standard U-shape control arms. Additional features that were ever so popular include those famous painted rally stripes. These stripes adorned a vacuum actuated cowl induction hood that functioned to feed directly into the carb. Interior features completed the package by giving the driver a clean flat faced gauge display that was not a carryover from lower trim Chevelle or Malibu interiors, and included a large face tach flanked by smaller gauges. Bucket seats were an option over the base bench seat, with them you could opt for a center console, and a floor shifter option for automatics if the steering column selector seemed too granny for you.
Ultimately the party was short, as in 4,475 units short. The muscle car "meltdown" was underway, and the fallout resulted in low compression, bulky rubber bumper, heaps with impotent V8s that ushered in the Japanese and European manufacturers to satisfy the American market. The LS6 454 in '71 produced 425 horsepower and was only available in the Corvette though it was initially promised for the Chevelle. SS 454 buyers had been left with a peak output of 365 horses, and a maximum compression ratio lowered to 9:1 due to the requirement of low leaded fuels with no explanation for the absence of the LS6. By the year 1973, the final year a Chevelle SS existed, the trim was no more than looks without a hint of the fury it had once wielded just 3 years prior. The legendary LS6 Chevelle has captivated muscle car aficionados for the decades since, and with the boom in collector car auctions, the LS6 has returned to the main stage. At an auction in 2019, a convertible example that had undergone a full restoration fetched $110,000. Thanks to the low production numbers, there are some options and color combos that are so rare, prices such as $265,000 resulting in a no sale have occurred, while other examples barely hammer above $100K. With a sea of "Tribute" cars (fakes) in existence, it is important to know the details found in online registries or jump into an owner's forum so you don't end up getting had for $60k because you overpaid for a Malibu with a van motor and some badges.
Regardless of where your brand loyalties lie, respect for the LS6 code Chevelle is universal. This was Chevy's finale to cap the short lived albeit lively muscle car era of the 60s. The high powered 454 SS embodied what it meant to be the baddest car on the block as well as any Hemi, or Cobra Jet. The car that was "alright" enough to be the ride Matthew McConaughey drove in "Dazed and Confused" combined legendary power with timeless bumper to bumper styling that could only be achieved in "the best of times".
1970 Chevy Chevelle SS 454 Muscle Car Pictures: