Million Dollar Club: 20 Cars That Cost Over a Million Bucks
Owning a million-dollar car – for some, it's an achievement to show how far they got in life while for others is just another hobby, admittedly, an expensive one. From unique exteriors made of exotic materials and insane amounts of power under the hood to precious stones and diamonds fitted within the bodywork, there are many reasons for why certain automotive examples would pass the 1-million-dollar mark. More importantly, there are just as many reasons for enthusiasts to pay such an amount of money to own the car.
Let's have a look at 20 cars, new and old, which graciously surpassed the 1-million-dollar sale point, some by even a tenfold. First, let's have a look at some brand-new cars that were instantly priced at or above the nine-figure value.
1. Porsche 918 Spyder – $1 million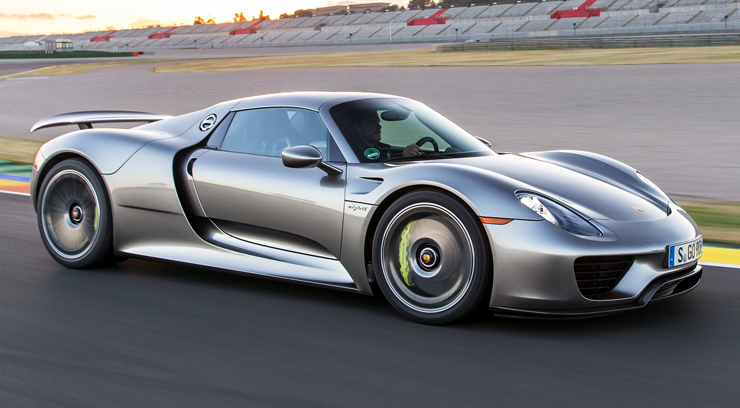 As TopGear calls it, the Porsche 918 is one of the fastest and most outrageous cars on the planet. With 2.8 seconds to 62mph and topping out at 211mph thanks to its 875bhp hybrid powertrain, the Porsche 918 is anything but slow.
Although the original sale price was around $400,000 and 918 units were made, Porsche sold the lot almost instantly and now witnessing its models changing hands for roughly $1 million apiece.
2. Brabham BT62 – $1.4 million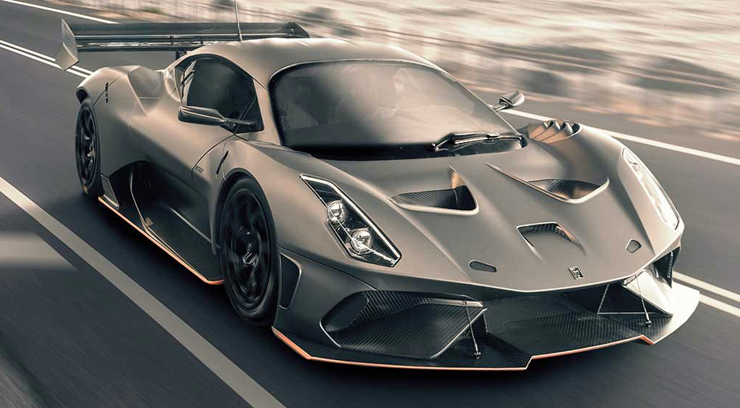 Built to support the legacy of one of Formula 1's greatest phenomena sir Jack Brabham, the Brabham BT62 supercar is aimed at those whom wish to get better track times. However, the improvement should not only come from the 710hp 5.4-liter V8. Instead, Brabham offers BT62 buyers a tailored race driving program including advanced biometric scanning and even emotional racing health.
Unlike other cars on this list, the Brabham BT62 is made for the track only – no chance of roaming it on city streets.
3. McLaren Speedtail – $2.2 million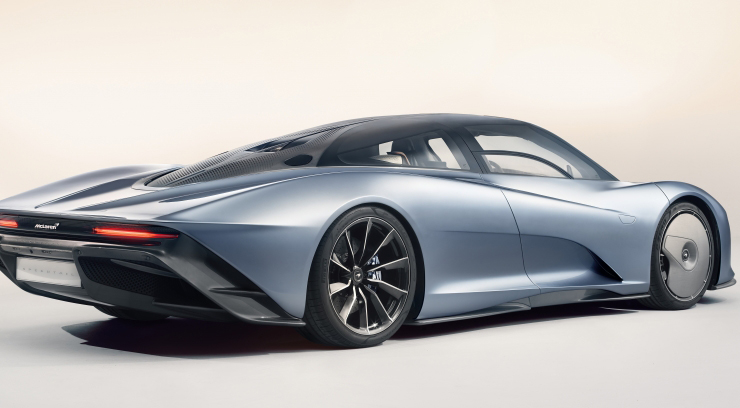 Built as a homage for the legendary McLaren F1 – the brand's first ever road car, the Speedtail took the automotive world by surprise, boasting a design just as stunning as the McLaren F1 had for its time. Also, like the F1, the Speedtail will feature a three-seater configuration, with the driver sitting in the middle with passengers on each side, slightly rearwards.
With a hybrid powertrain that promises to push out 1,035 hp and an estimated 250mph top speed, the McLaren Speedtail promises not only to be a mean racing machine but also provide a glimpse of comfort during road running.
5. Ferrari F60 America $2.5 million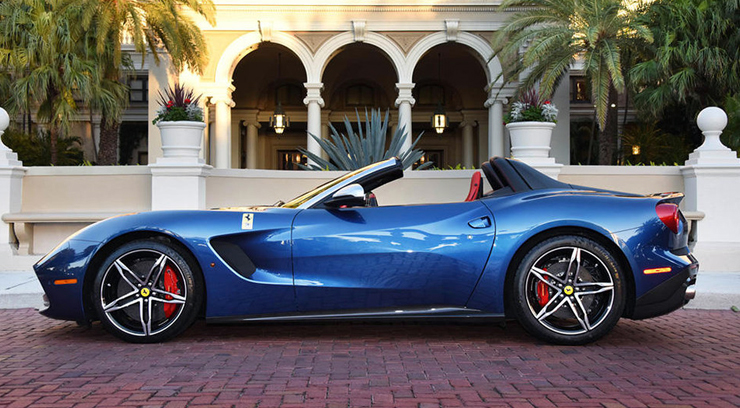 Reaching 60 years of tenure in North America, the Italian automaker decided to celebrate the deed by slapping the prancing horse logo on a 10-unit limited production model called F60 America. The supercar is based on the F12 Berlinetta but features obviously patriotic accents, such as the Stars and Stripes colorway as well as seat inserts including the American flag.
While there is virtually no mechanical difference when compared to the F12 Berlinetta, this doesn't make the F60 America a slow car in any way. The 6.2-liter F12 makes 740 glorious horses and makes the car reach 60 mph in just 2.9 seconds.
6. Aston Martin Valkyrie – $2.6 million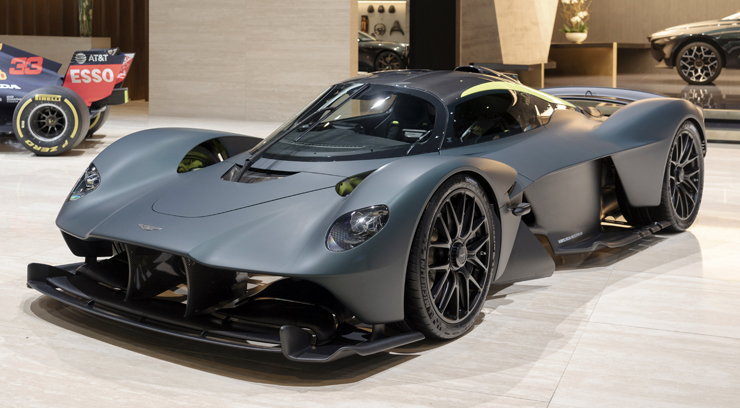 The productive partnership between Aston martin and Red Bull Racing Formula One team generated the Valkyrie. A hypercar promising 1:1 ratio of power to weight, built via a carbon fiber chassis and a 6.5-liter V12 engine aided by electric motors.
Aston Martin also aims to achieve huge amounts of downforce, as a prototype version of the Valkyrie will race in LeMans newly introduced hypercar category. Apart from the prototypes needed for the competition, only 150 road units will be built alongside 25 track-only iterations.
7. Bugatti Chiron – $2.9 million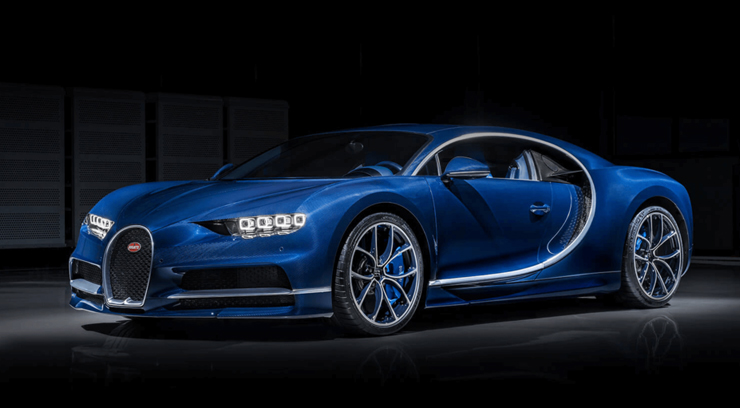 When launched, the Bugatti Veyron redefined the concept of automotive performance. It was the first road car to boast 1000bhp and reaching a staggering 251mph top speed – that was back in 2005!
Bugatti followed up the Veyron with the Chiron. Bugatti engineers strapped on an 8-liter W16 engine to a not-so-light chassis, that made the Chiron laugh in the face of skeptics. The engine hosts 1500hp and a tire-shredding 1,180 lb-ft of torque. Just recently, a modified version of the Chiron became the first supercar to breach the 300mph top speed barrier, with the speedometer officially recording a peak at 305mph.
When it comes to the Chiron, people are not paying solely for a statement in luxury, but also for undisputed sheer speed bragging rights.
4. Koenigsegg Jesko – $3 million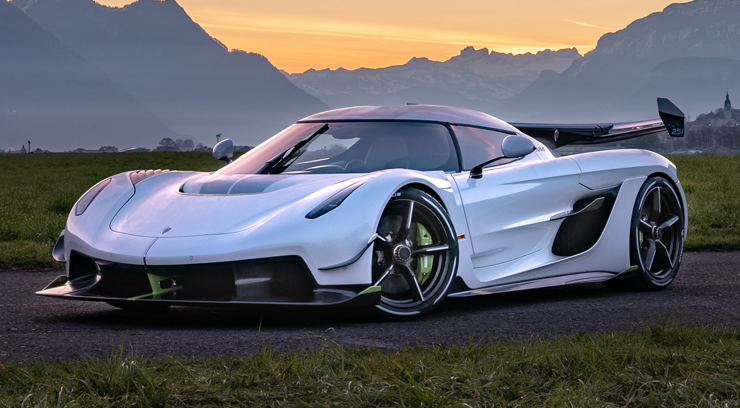 When Swedish hypercar maker Koenigsegg announces a new model will be unveiled, the anticipation and excitement is profound. Through the years, Koenigsegg has somehow managed to raise the bar with each spectacular new model. Their last creation, the Agera RS, did everything well. It even clocked 278 mph and was coined as the "world's fastest production car." Now, with the Jesko named after the founder's father, Jesko von Koenigsegg, you know this model was going to be even more special. As Koenigsegg states, "The Jesko was designed to deliver the highest measurable performance of any car homologated for road use for all world markets." This Swedish land rocket is powered by a potent 5.0L V8 producing 1,280 horsepower and 1,106 lb-ft of torque mated to a new 9 speed multi-clutch "Light Speed Transmission". The Jesko is the most aerodynamically aggressive car ever to wear a Koenigsegg badge, offering 1,764 lbs of downforce at 155 mph. It comes standard with rear-wheel steering capabilities in order to improve cornering and maneuverability. If the 'standard' Jesko wheels won't do it for you, then you can opt for an all carbon fiber set which are claimed to be the strongest and lightest production wheels of their size. Despite the stratospheric price tag, all 125 units have been sold, a testament to its greatness.
8. Lykan Hypersport $3.4 million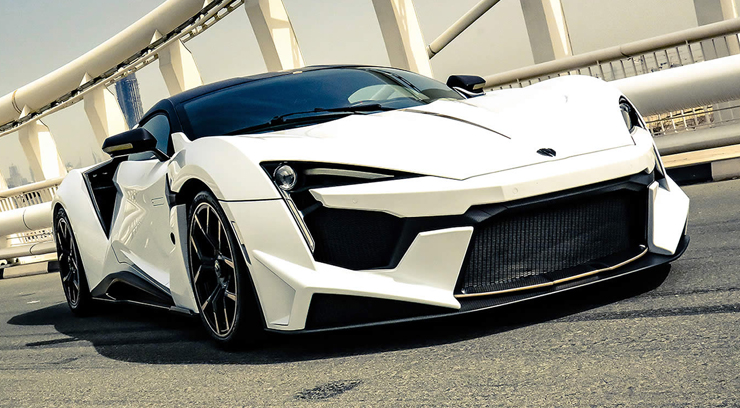 Scissor doors, jewel encrusted headlights and a cockpit design seemingly ripped out of the Star Trek era. And of course, a monumental amount of power flowing to the wheels. That's probably the best way to describe the Lykan Hypersport. A rather small 3.7-liter twin turbo flat six engine can produce 770hp, nevertheless boosting the Lykan Hypersport from 0 to 60 mph in just 2.7 seconds.
While the car is best known for its apparition in the latest Fast and Furious movie and jumping through three skyscrapers, the Lykan Hypersport was also commissioned by the Abu Dhabi police. After all, in the state with the most powerful and expensive vehicles you need something just as adequate to chase them down when they break the limits.
9. Lamborghini Veneno – $4.5 million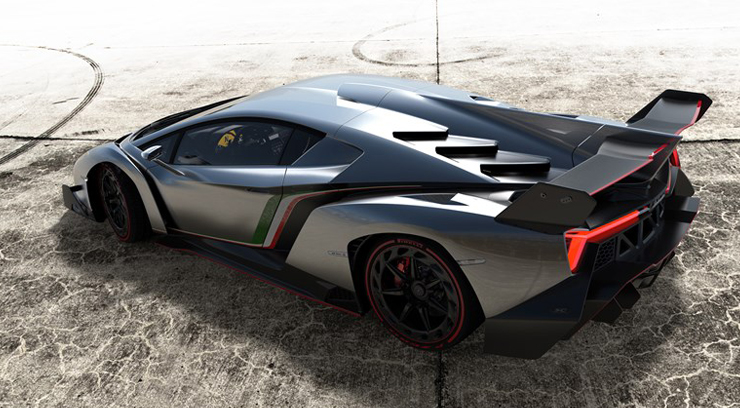 For a tractor brand that started building race cars just to stick it to Enzo Ferrari, you could say Lamborghini did, to the very least, a great job. One of the most eye-catching models, the Lamborghini Veneno was released with just 14 examples available for sale. Featuring 740hp and 509 lb-ft of torque, the Veneno takes 2.8 seconds to 60 mph. This is all thanks to a beefed up version of the 6.5-liter V12 engine also found in the Aventador.
The Veneno was instantly sold-out, with each unit going out for $4.5-million, and chances are, the supercar is even more expensive now as Lamborghini doesn't plan on producing any new pieces.
10. Mercedes-Benz Maybach Exelero – $8 million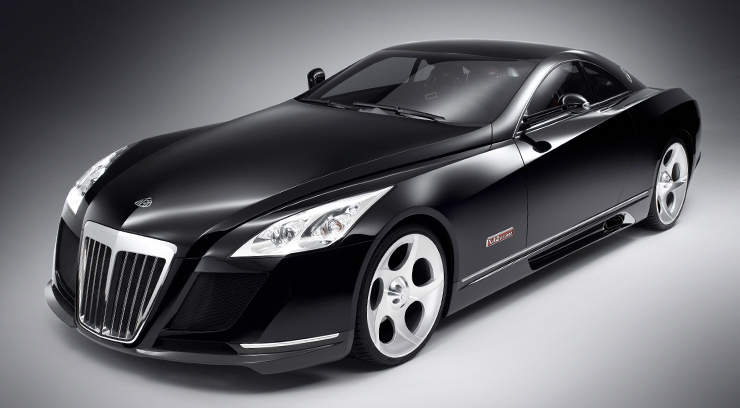 It's not news that Mercedes-Benz Maybach and high figures are just like fries and ketchup. However, the fact that this one-off model was rated at $8 million back in 2004 makes it worthy of the list.
For the sticker price, the owner got a 700hp twin-turbo V12 along luxury amenities on the inside – most likely tailored to the buyer's preferences. Unlike what you might have expected, the car was actually commissioned by the Goodyear subsidiary Fulda in order to showcase and test their high-performance tire range called Exelero.
11. Rolls-Royce Sweptail – $13 million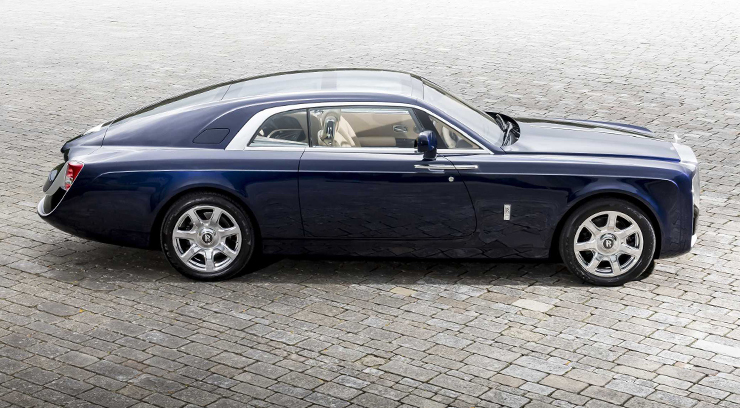 It's hard to expect anything but an 8-figure price tag when Rolls-Royce's bespoke division comes into the spotlight with a one-off model. The car was built from scratch based on the requirements of the commissioner, which included design cues taken from classic Bugatti models in the early 1920s but also incorporates the luxury and bold statements of yachts.
The massive grille at the front rests as a symbol for any Rolls-Royce model, however, this one's the largest that the English brand had ever designed. While the Sweptail is nothing but large, it only seats two. The space in the rear is occupied by a yacht-like, wood covered deck.
According to Rolls-Royce, it took 4 years to build the Sweptail and, although an official price has not been disclosed, most experts agree that the number can't be below $13 million.
12. Bugatti La Voiture Noire – $19 million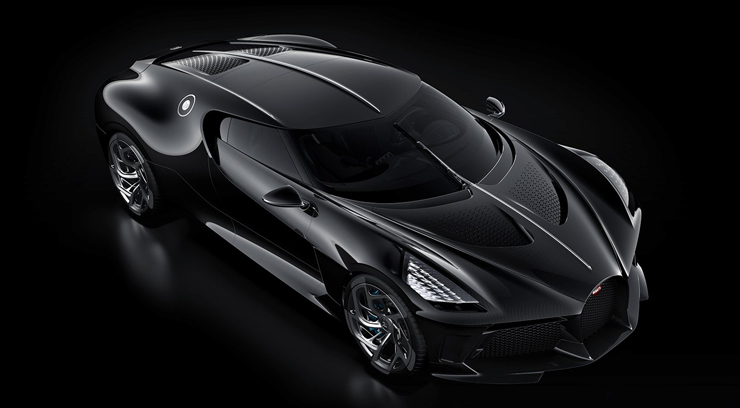 If there was a brand that could dethrone Rolls-Royce in terms of expensive price tags, only Bugatti was probably the only contender out there. Thus, Bugatti revealed a one-off Voiture Noire model at the 2019 Geneva Auto Show.
Redesigning the Veyron/Chiron platform, Bugatti added more elegantly designed outer lines, causing the Voiture Noire to stand out amongst its impressive peers. The model features the same 8-liter W16 found on the Chiron, with 1500hp sent to all four wheels.
While just as with almost all one-off models, Bugatti denied an official price. However, most estimates revolve around $19 million, with even more secrecy placed on the buyer. Unofficial sources indicate that soccer star Cristiano Ronaldo may have added the Voiture Noire to his growing supercar collection.
13. Alfa Romeo 8C 2900B Lungo Spider – $19.8 million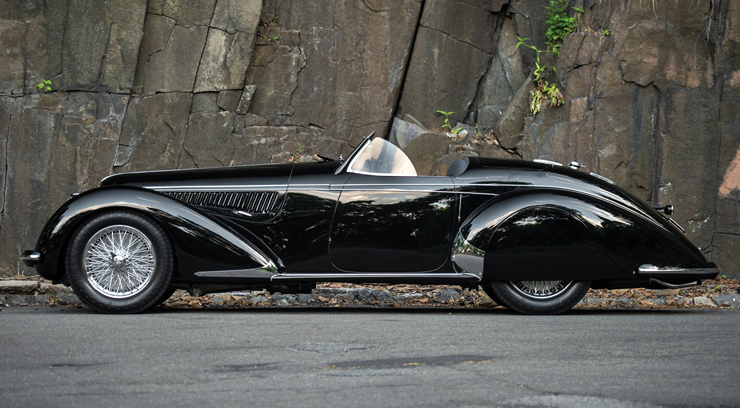 For many, the Alfa Romeo 8C 2900B Lungo Spider is the Italian equivalent of the Bugatti Atlantic. Alfa Romeo produced the car between 1931 and 1939, featuring an in-line 8-cylinder engine with displacements between 2.3 and 2.9 liters.
The 8C 2300 Le Mans model went on to win the famous endurance race consecutively between 1931 and 1934. The 8C 2300 Spider was driven by Tazio Nuvolari during the 1931 and 1932 Targa Florio race, where it also won.
14. Jaguar D-Type – $21.8 million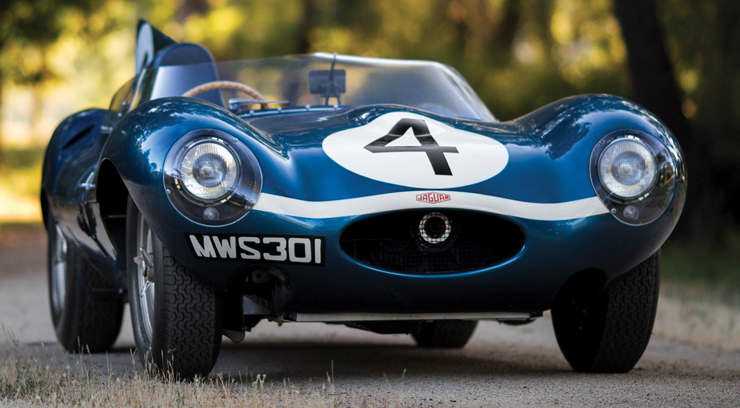 A car designed with the sole purpose of racing the famous 24 hours of LeMans, the Jaguar D-Type was built between 1954 and 1957. About 90 units were built, however many of them were lost through time or crashed during testing. In 2018, the famous auction house RM Sotheby's hosted the sale of one Jaguar D-Type for $21.8 million. The unit sold was the overall winning car at LeMans in 1956 and was kept in its winning form.
15. Duesenberg SSJ – $22 million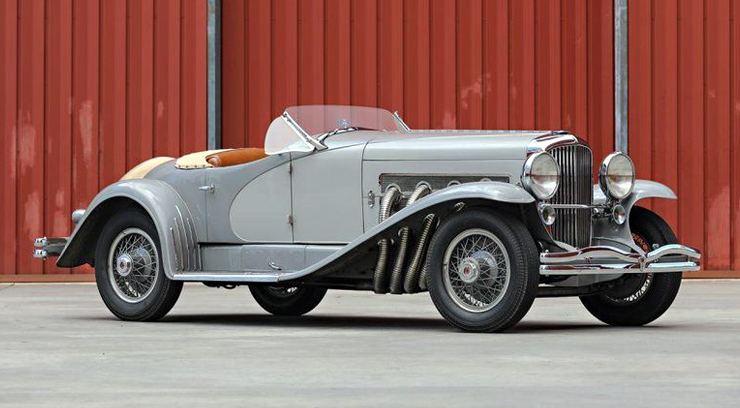 Only two units of the short wheelbase roadster Duesenberg SSJ were ever made. One was sold in 1935 to actor Gary Cooper, while the other piece was lent by Duesenberg to actor Clark Gable only a year later.
In 2018, the SSJ owned by Gary Cooper was auctioned at Gooding and Company in Pebble Beach for $22 million. The SSJ featured an unrestored chassis hosting a twin-carb, supercharged, 420 CID DOHC 32-Valve, 8-cylinder engine. The roadster was able to push out 400bhp at 5,000 RPM while sending the power down to the wheels via a 3-speed manual gearbox. This "Duesy" is currently the most expensive American car sold to date.
16. Ferrari 275 GTB/C Speciale – $26.4 million

Since we're still on the very low production numbers section, the Ferrari 275 GTB/C Speciale was built in just 4 units. Brought to life in 1964, the grand tourer coupe features a 3.3-liter Colombo V12 engine coupled to a 5-speed manual transmission.
The 275 GTB/C Speciale is considered one of the greatest pieces of automotive engineering that the Prancing Horse ever took out of its factory, and for good reason. Intended to replace the Ferrari 250 GTO in the upcoming 1965 racing season, it had big shoes to fill. The engine pushes out around 300hp which need to move a lightweight chassis of just 860kg.
Auctioned in 2014 at RM Sotheby's, the 275 GTB/C Speciale was taken home in exchange for $26.4 million.
17. Ferrari 290 MM – $28 million

There are a lot of expensive Ferraris out there. But there isn't one brand new supercar from the Italian brand that can match the price tag of its auctioned, vintage counterparts. For example, the 290 MM – which stands for Mille Miglia finished 4th in the event in 1956. The winner was the same 290 MM. So why did number 4 rake higher than the overall winner?
For one, the 290 MM coming in 4th at the 1956 Mille Miglia was driven by the legendary Juan Manuel Fangio – one of the most celebrated race drivers of all time.
RM Sotheby's hosted the auction that has seen this car being sold for a whopping $28 million.
18. Mercedes-Benz W196 – $29.6 million

The Ferrari 290 MM wasn't the only Fangio driven racecar that raked in heavy bucks at auction. Mercedes-Benz W196 is one of the most iconic silhouettes of the golden F1 era. Built between 1954 and 1955, the single seater was handled not just by Juan Manuel Fangio, but also by Sir Stirling Moss.
Chassis number 196 010 0006/54 was auctioned in 2013 at Bonhams Auction House and was acquired for $29.6 million. This particular car won the 1954 German and Swiss Grand Prixes.
19. Ferrari 335S – $35.7 million

It really is no surprise that some of the most expensive auctioned cars were made by Ferrari. It's the same with the 3Ferrari 35S, a racecar built in 1957, during an era where Mille Miglia was considered the best, hardest race in the world.
Inspired by the Lancia D50 Grand Prix, driven by Vittorio Jano, Ferrari created the 335S as a follower of the 290MM, maintaining the same engine block (V12) but fully redesigning the transmission and adding 2 camshafts per cylinder line. The result was a prototype that would develop above 400hp and thus successfully defend Ferrari's title.
Four 335S' were made, one being converted from the 315 S model. In 2016, auctioneer Herve Poulain acquired the #0674 chassis for $32.7 million.
20. Ferrari 250 GTO – $48.4 million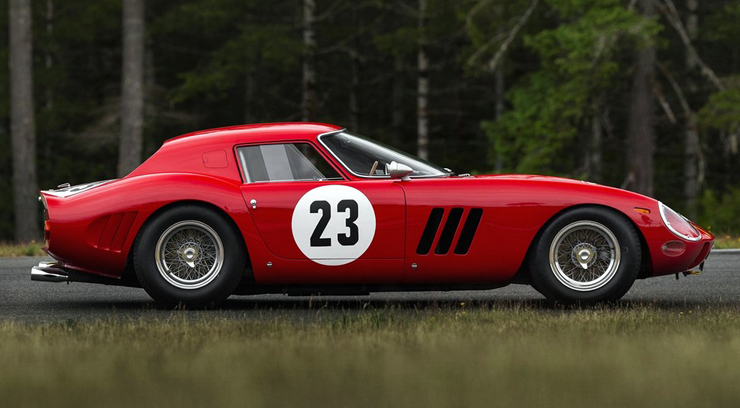 Only 36 units were ever produced. The original sale price was just $18,000. Built for FIA Group 3 Grand Touring Car racing, the Ferrari 250 GTO was powered by a 23-liter Tipo 168 C12 engine. In order to be able to acquire a piece, buyers would have had to be personally approved by Enzo Ferrari himself.
Competing against the likes of Shelby Cobra, Jaguar E-Type and Aston Martin DP214, the 250 GTO proved to be a merciless opponent.
Sold at RM Sotheby's for a staggering $48.4 million, this 1962 Ferrari 250 GTO is currently the most expensive car ever sold in history.
These prices may seem rather stratospheric, although, why shouldn't fine automobiles command such figures? Afterall, paintings have sold for hundreds of millions of dollars, such as Leonardo da Vinci's "Salvator Mundi" for $450.3 million . Some of these special high dollar cars transcend to the realm of 'automobile art'. Just look at renowned fashion designer and vintage fine automobile collector Ralph Lauren. His impressive garage closely resembles an art gallery, only rather than paintings it's comprised of $350 million worth of classic Ferrari, Bentley, Alfa Romeo, Bugatti and the like inside.