Fast Cars That Look Slow
Sometimes automotive designers just aren't quite on the ball, or perhaps a manufacturer released a sport version of a boring base model. Either way, there are sometimes fast cars that are boring to look at.  Let's take a look at what these sleeper cars can offer.  Here are 8 moderately quick to brutally fast cars with looks that don't indicate their performance capabilities.
2004 – 06 Pontiac GTO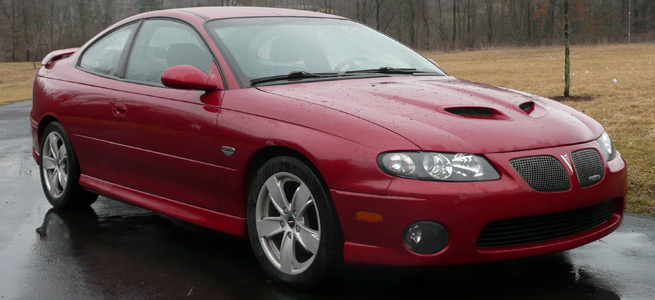 The original GTO was a sales hit, so during the retro heyday of the early 21st century, GM had a rather good idea to bring back the Goat. The Australian Holden Monaro (which is basically a coupe version of the Commodore) provided the solid chassis and modern interior, and proved to be the best car in Pontiac's lineup at the time. LS1 and LS2 engines from the Corvette provided up to 400 hp, and the 6-speed manual and independent rear made this car fun and livable as a powerful daily driver. Unfortunately it looked like a Chevy Cavalier with a body kit, so only 30,000 buyers picked them up. Now this modern stealth muscle car provides one of the best performance values, if you can get past its looks.
2003 – 06 VW Phaeton W12

The VW Phaeton was a terrible idea that was brilliantly executed. It looks like a Passat that let itself go chunky in middle age, but has worked its way up to an important upper management job. The chassis is the vaunted Volkswagen Group D1 platform, shared with the Bentley Continental GT and Flying Spur. The 6.0 liter is the same as in the top of the line Audi A8, and makes 444 horsepower. Adaptive air suspension and 18-way power massaging seats make sure your butt never feels the road. With the top speed limiter removed, this luxo barge has no problem running over 170 mph. As impressive as the Phaeton is, depreciation took its toll, and the once $100k super Vee-dub now runs just $12,000.
2012+ Buick Verano turbo

Twenty-nine grand from Buick buys you exactly what you would expect to see; a boring sedan fit for the retirement crowd. While the Verano looks about as exciting as a flat roller coaster, take a closer look at the specs. Behind that snooze-fest nose sits a 2.0 liter direct injected and turbocharged four cylinder borrowed from the Saturn Sky Redline. That means it is under-rated at 250 hp, and just a dealer re-tune away from 330 hp. Another option box that ups the fun and performance is a 6-speed manual transmission. At no cost. In a Buick. Add the premium finish 18" wheels, and your surprising lack of mandatory package groups gets you a truly affordable performance sleeper.
2012+ Jeep Grand Cherokee SRT

Possibly the winner on this list. The stats read like a bruiser of a modern muscle car: 6.4 liter Hemi V8, 475 horsepower, zero to sixty in 4.8 seconds, 8-speed auto with paddle shifters. And then you realize all that is sitting in Jeep's largest luxo SUV. It's not a one trick pony either, as it handles and stops as well as it goes. The gigantic 15-inch rotors are capped by 6-piston Brembo calipers. The SRT suspension has different settings, including sport and track modes, allowing this lumbering beast to achieve .90 on the skidpad. That's in line with 1990s sports cars. If that isn't enough to make you want one, consider that it's still an SUV that seats 5 adults. Think of it as a tall, eco unfriendly Tesla P85D.
2010+ Mercedes AMG E63 S Wagon

The E-Class looks like a standard wagon from a German luxury manufacturer. Take a handsome sedan like the E-Class, and add a swept, but nerdy, wagon rear, and you have the E63 S. It's stately, but not exactly exotic looking. Most non-enthusiasts will ignore this car like it's a minivan, but purists know the letters AMG mean something special. Under the hood is a ridiculous, hand-built 5.5 liter V8. It sports twin turbos and yields 577 hp and 590 lb/ft. Even though it weighs in at a portly 4,600 lbs, this wagon has enough power to launch to sixty in just 3.6 seconds. Don't underestimate the wagons.
2004 – 09 Volvo S60 R

Based on what was the face of Volvo for a full decade, the S60 R is stealthy due to the perception of the base S60 as a sensible commuter base model. Seriously, Google S60 rear end, and those familiar tail lights will tell you that someone bought a safe and somewhat dull alternative to a base BMW 3. The R is quite a bit different. A turbo boosts the inline five cylinder to 300 hp, 300 lb/ft. Power is routed through a 6-speed manual to the Haldex all-wheel drive. Hit "advanced" on the settings, and the semi-active suspension removes driver assist and firms the ride. While it may look like it's headed to Whole Foods, the S60 R is 100% track ready.
2014+ Infiniti Q70 5.6

What the heck is a Q70, you ask? So does everyone else. Looking at this big Infiniti, you can sorta see the Nissan relationship, leaving you to guess that this is a fancy V6 powered front-drive Maxima. The Q70 will surprise you. With a 5.6 liter V8 under the hood, the buy has the option of either rear-wheel drive or all-wheel drive. 420 horsepower and 417 lb/ft launch this surprising car to a very competitive sub-five second zero to sixty run. The 7-speed auto is the only transmission available, but there is another interesting option. Infiniti lets you turn off all driver assistance aids with the touch of a button. Suddenly, this boring Nissan becomes a limo that can drift.
2013+ Chevrolet SS

Take a Holden Commodore, and slap a bowtie on the front and rename it SS. Convert to left hand drive, and only offer a 415 hp LSx-based V8. Add Chevy's best interior in any car ever. Sell for the price of a Challenger, and take a beating in sales. Sounds like typical GM here. They missed the mark by offering a fantastic car with utterly bland looks. It's the GTO, once again. The performance is there, this time with an even better interior, magna-ride suspension, and something Dodge doesn't offer at any price: a manual transmission. Still, Chevy averages just 1,500 of these super sedans each year. While the SS may be worthy of the name Chevelle, slow sales are likely due to it looking like a fat Malibu.
While a bland but quick ride may be the choice for some buyers, they seem to be in the vast minority. If you are looking for substance, and speed, over style, snag one of these quick rides while you can. If you know of any other modern fast cars that look slow, then let us know in the comments below.