11 Fun-To-Drive Electric Cars
When the first modern hybrid cars hit the market, there was a lot of resistance from the public, with very little early adopters willing to risk their cash on the new technology. Issues such as range anxiety, poor performance and the lack of a charging infrastructure kept buyers at bay in the early 2000s.
Then, as Tesla came along, bringing both a proper electric vehicle as well as a stable and ever expanding charging network, prospective buyers became more open towards acquiring an electric car. The EV spark had ignited.  In the decade to come, other large automakers followed suit, some with more zeal than others. Now, electric vehicles are no longer a novelty and charging stations are present all around the globe.
Still, naysayers will argue that electric cars lack the soul and passion of a proper combustion engine counterpart. Is driving an EV boring, soulless? We have listed 11 cars to debunk that myth (in no particular order)!
Pininfarina Battista

For the past several decades Italian automakers have produced some of the most celebrated and exciting high-performance cars to grace the planet.  Pininfarina is the latest Italian automaker to up the performance ante with their all-new Battista electric hypercar.  The Battista boasts a jaw-dropping 1,900 hp and 1,725 lb.ft of torque, which cements it as the most powerful Italian car in history!  If you wish to experience this electric hypercar's manufacturer claimed 1.8 second dash to 60 mph and 217 mph top speed then you'll need to reach deep into your wallet and fork over 4,409 lbs. of $1 dollar bills …or $2 million dollars.
Hyundai Ioniq 5

While the Koreans have been producing some decent EVs for a while now, Hyundai´s Ioniq 5 is in another league. First of all, it´s a real head turner, ditching the annoying fake grille for a more elegant bleeding trim motif. It somehow manages to adhere to all pedestrian safety and aerodynamic demands while still looking like what seems to be a concept car.
The Ultimate trim brings the most powerful power unit, pushing 300bhp to the wheels for a near 5 second 0-60 mph time. Tipping the scales at over 2 tons, the Ioniq manages to accelerate faster than a Golf GTI, and doesn't look half bad while doing it! That´s what 446 lb.ft of torque will do for you.
Ford Mustang Mach-E GT

The Mustang Mach-E was given the difficult task of inducing Ford in the electric SUV niche. When people think "Mustang" they think of a low, sleek and aggressive 2-door sports coupe, and often with big throaty V8.  So, one could imagine the shock of seeing the pony badge slapped on an SUV, even more, an electric one.
Yet, Ford engineers clearly didn't want to tarnish the legendary Mustang nameplate.  They went all out, and the Mustang Mach-E GT comes packed with power and an acceleration to rival the likes of Tesla. The dual motor powertrain is good for 480 hp and a staggering 635 lb-ft of torque. What´s fun about it? There is literally zero delay from throttle input to traction starting to eat at the wheels.
Even if the curb weight sits at 5011lbs, the Mach-E GT is just as fun to drive on the interstate as is on the back roads thanks to the MagneRide 2 adaptive suspension damping body roll.
Tesla Model 3 Performance

Tesla drove the spearhead efforts towards electrification of consumer cars. Now it offers four models in its lineup, with various other projects occasionally teased by its eccentric centibillionaire leader. The model 3 came as a more affordable version of Tesla Model S, but its Performance trim packs a punch.
Two electric motors push the all-wheel drive system from 0 to 60 mph in 3.3 seconds – which is enough to embarrass some supercars. Surprisingly, the Model 3 also stands out from the average EV handling capabilities, with very little body lean and plenty of speed that can be safely carried around the corners. If you want to shell out the extra dough, you can witness Tesla´s impressive autonomous systems hard at work in the Model 3, a feature that is yet to be caught by any other automaker
Polestar 2

Forked from Volvo, Polestar was the skunkworks of the Swedish automaker´s racing division. Now existing as a standalone builder of performance electric cars, it provided the attention-grabbing Polestar 1 back in 2017.
Polestar 2 came out as a fully-fledged production model, hungrily aiming for the throne of Tesla Model 3. The top model, Long Range Dual Motor edition brings a 50-50 front-rear power split of 400bhp. The power comes backed in a Swedish-fashioned bodywork, a no-nonsense, bold approach to designing cars. The build quality rivals luxury automakers and the drive is worthy of a sportscar.
Tesla Model S Plaid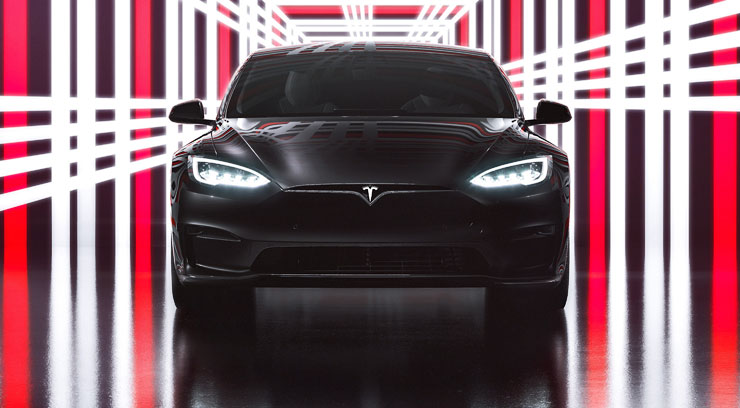 Model S is Tesla´s crown jewel, boasting the highest integration of modern technology, both in terms of self-driving capabilities and electric powertrain. It seems however that Tesla's chairman Elon Musk did not have enough fun, so thus, the Model S Plaid was launched.
It is simply an absurdly fast version of the Model S, breaking speed records left and right. The monstrous 1020-hp powertrain spins its electric engines at 20,000RPM and needs just 2 seconds to get from 0 to 60 miles per hour. The Model S Plaid keeps on accelerating up to a 200mph top speed, making it a proper electric monster and leaving most combustion cars far far behind.
Why is it named "Plaid" you ask?  Take a look at Mel Brook's 1987 space comedy "Spaceballs" to find out!
Porsche Taycan Turbo S

Even if it does not feature a classic turbo filled power unit or an actual engine needing turbocharging, the Taycan still received the Turbo S badge. It made for quite a few snickers and nudges around the automotive community.
However, jokes and laughs quickly disappeared when, tested against competition, Taycan Turbo S blew everything out of the water. The inside of the cabin lets you know that first, you're in a Porsche. Only then, you realize it's an EV. Seats are snuggling tightly, steering is right on point.
The low center of gravity, electronically adaptive dampers and three drive modes take the Taycan Turbo S around any bend, on any track. One would go as far as to say that, with good noise-canceling headphones, you could hardly tell whether it's the Turbo S or the 911 GT3. After all, you are in control of no less than 750hp and 774 lb-ft of torque available instantly.
Aspark Owl

So far on the list, Europe and the US have dominated the fun to drive EVs. However, the Aspark Owl is an electric hypercar fully developed and built in Japan. It's also Japan's first hypercar, regardless of the type of fuel used.
After being relentlessly teased for almost 4 years, the Aspark Owl was revealed to the public with a bang. The long lines, acute angles and involute curves make for a striking appearance anywhere on the street or on the track. Only 50 examples will be built, each coming with the same futuristic bodywork and a staggering 1,985hp, 1,475 lb-ft drivetrain. How fun is that?
To provide the Godzillian amount of power mentioned above, Aspark Owl makes use of four electric motors. Given the extreme power figures, Aspark teased the Owl as the fastest accelerating car in the world, with a 0-60 mph time of 1.69 seconds and a top speed of 249 mph.
While the design and power numbers are outstanding, so is the price. The cutting edge Japanese technology will push each of the 50 promised pieces at $3.56 million.
Tesla Roadster

Teased and re-teased by Musk, the Tesla Roadster is expected to become the new crown jewel of the Silicon Valley EV giant. The Roadster resurrects the original 2008 nameplate that put Tesla on the list of worldwide automakers.
According to Tesla, the Roadster will be sold for $200,000, with a limited Founders edition going for $250,000. What's fun about it? The unveiled concept in 2017 came with a promised 1.9 second 0 to 60 mph time and a top speed beyond 250mph.
Elon Musk further noted that the Roadster will be capable of a blistering 8.8 second quarter mile, a preposterous claim for a production vehicle prior to electric propulsion. If the numbers eventually prove true, the Tesla Roadster shall beat the McLaren 570S by a whole second on the drag strip.
Lotus Evija

Just like its Japanese counterpart (and contender), Lotus Evija aims to push the boundaries of electric hypercars, reaching new horizons. Not only that Lotus decided to go full electric in a niche filled with hybrid powertrains, but it will also provide useful features such as high-speed charging capabilities and racing aerodynamics. Oh, it's also really fast!
Four electric motors will push the Evija by the combined power of almost 2000hp, also receiving the title of the most powerful production car on the planet.
There is a plethora of paint choices, premium interior and a single speed automatic gearbox to take you from 0 to 60 mph in a heartbeat and then chase the 200mph mark, all in one throttle pedal mashing. Torque vectoring and a responsive steering rack match the brutal acceleration with excellent, grip-limit cornering ability. Only 130 models will be built, each being slapped with an eye-popping $2 million price tag.
Rimac Nevera

It's still rather surreal to see how in the modern automotive world, tech giants come out of nowhere and push extremely powerful electric vehicles to the market to compete with the best of legacy car makers offerings. While Mate Rimac and his hypercar building company isn't a novelty anymore, his fingerprint being hardly left on us, Rimac still continues to provide outstanding pieces of engineering.
Initially codenamed C_Two, the Nevera aims to reach the outer limits of automotive technology, despite coming from Croatia, a country with no history whatsoever in the field of car building, nevermind EVs.
Four permanent magnet motors drive each wheel independently, with an H-shaped Li/Man/Ni battery supplying 120kWh to keep the running. The output of 1914bhp and 1,740 lb-ft of torque is matched by the most advanced torque vectoring system in the world.
Front and rear wheels are connected via single speed gearboxes, providing the driver with hard to digest numbers: from a standstill, Rimac Nevera needs only 1.85 seconds to reach 60 mph, 4.3 seconds to 100mph, leveling off at roughly 258mph. Only 150 units are scheduled to be built, with likely most of them already being reserved.
Epilogue
Are electric cars boring? The true answer is, it depends. We find ourselves in a time where alternatives to combustion are not a concept anymore, but a strict necessity. And while the mass of electric cars are built to provide functionality over performance, there is no way to put the whole EV industry under fire for lacking soul.
The list above proves that even in a world of batteries and not gasoline, there is plenty of fun to be head behind the wheel.